BMW R50 1960 Model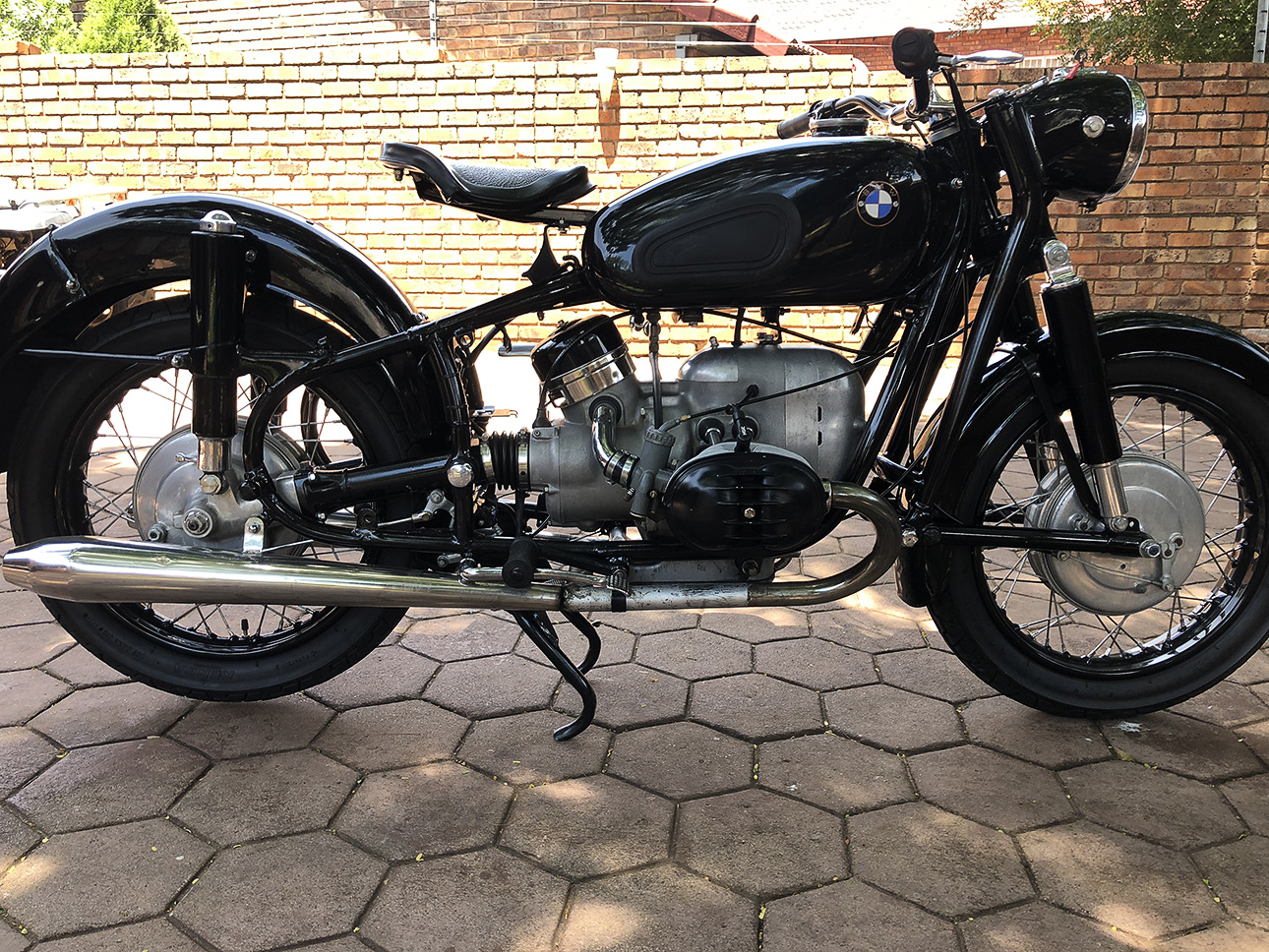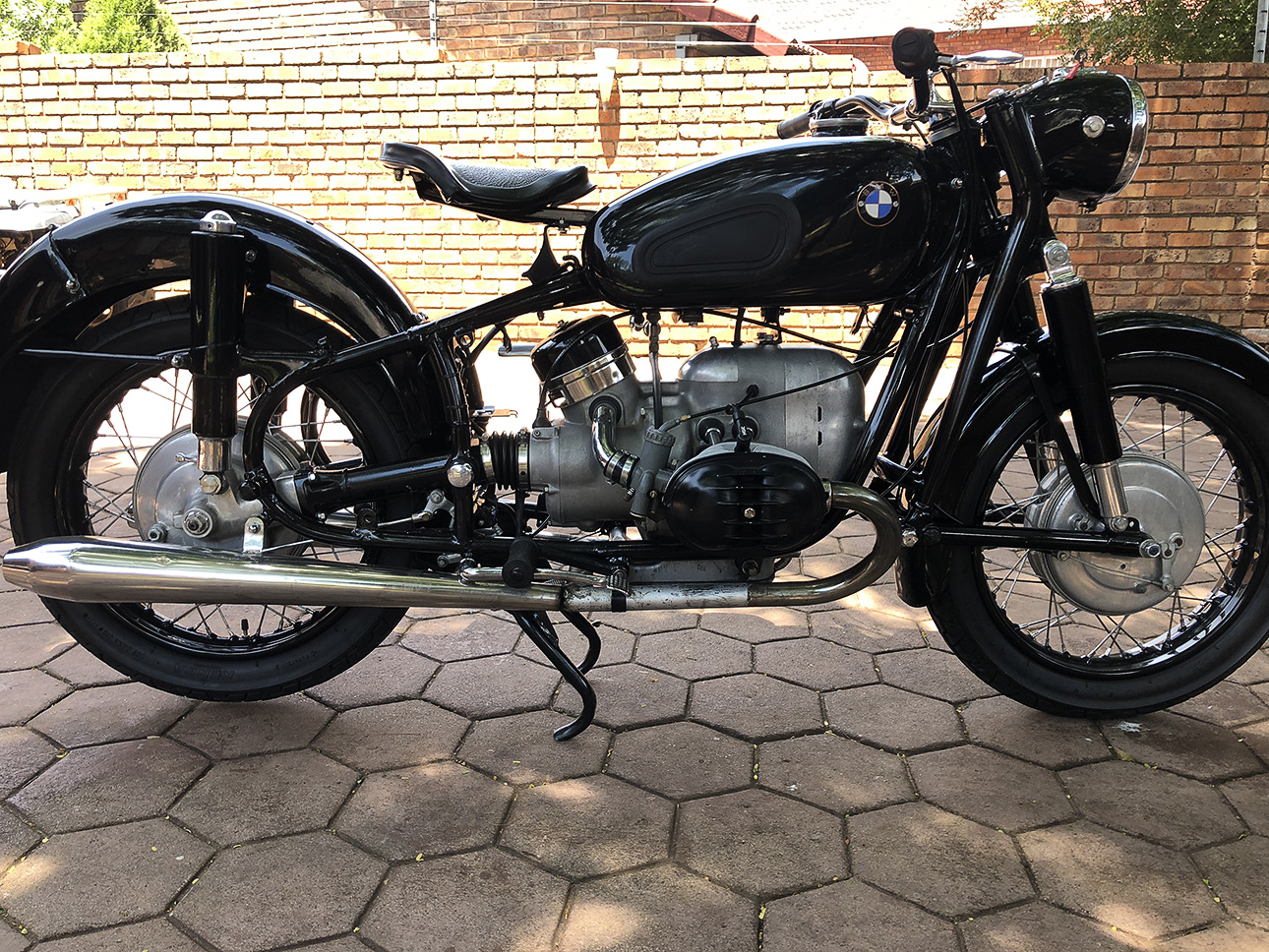 BMW R50 1960 Model
Price : R125000-00
As the 1950s progressed, motorcycle sales plummeted. In 1957, three of BMW's major German competitors went out of business. In 1954, BMW produced 30,000 motorcycles. By 1957, that number was less than 5,500.
BMW managed to survive only because they had long cultivated what is now known as the authority business (selling to the police and other official agencies). BMW nearly avoided being sold to Benz in 1959, and for the next 5 or 6 years the company was solely focused on recovering its auto business
At the Brussels Motor Show in 1955, BMW debuted its R50 alongside their new R60 and R69. It was a range of three air-cooled flat-twins. The R50 featured a 26 bhp 490 cc unit, while the R60 displaced 600 cc and made 28 bhp. The R69 was the more sporting version of the R60, and made 35 bhp.
All three bikes featured a new frame with leading-link Earles front forks in place of telescopic forks, and a rear swing arm suspension with dual adjustable hydraulic shock absorbers rather than "plunger" rear shocks. The hard-tail rear end, though was retained so that use with a sidecar was still possible.
Once you learn that BMW was in the business of aircraft engines, it's easy to see how this background influenced their early motorbike designs. Looking down on the boxer when you're seated, it looks like you have wings below you. This was an important factor 50 years ago – at the time BMW was a leader on the racing circuit.
This spectacular restored example that we have for sale has had a nut and bolt restoration using only genuine OEM BMW parts imported directly from Germany.
The bike has retained its original exhaust system and silencers which is extremely rare on these old models. The instrumental cluster is the original peace showing a mere 7941 miles. Whilst every part on the bike is original the owner has added a spectacular personal touch to set it apart from all the others around by ditching the pin stripes, the rims have been made black as well as the tappet covers. The bike comes with its original keys as well as the original hand pump that was a standard extra on these bikes from new.
From every angle it truly stands out as a symbol of quality German design and engineering. It's hard to mistake this bike for anything other than GermanIt amazes me to think that it's 50 years old. The R50 isn't the fastest, but it can still push close to 140km/h, and goes hundreds of kilometres in a day with little effort.
Mileage :7941 miles
Transmission type :4 Speed Shaft Drive
Vehicle colour :Black
Fuel :Petrol
Air Cooled :Yes
Moto size (CC): :494cc
Electric Start :No
Kick Start :No
Cylinders :2 Cylinder Horizontal Boxer
Owner's Manual :No
Service History :Yes
Price : R125000-00