MUSTANG GRANDE and MUSTANG GT For Sale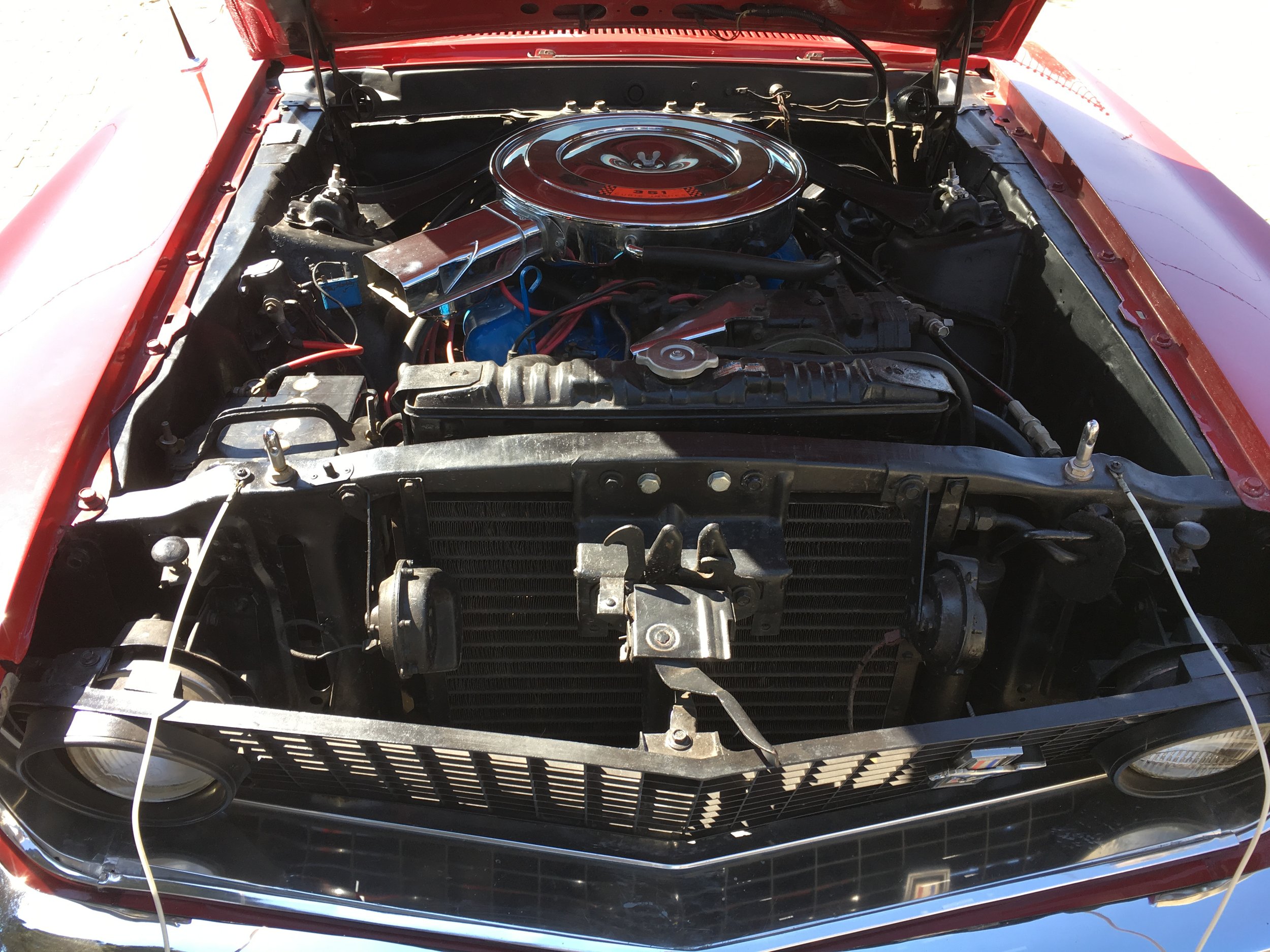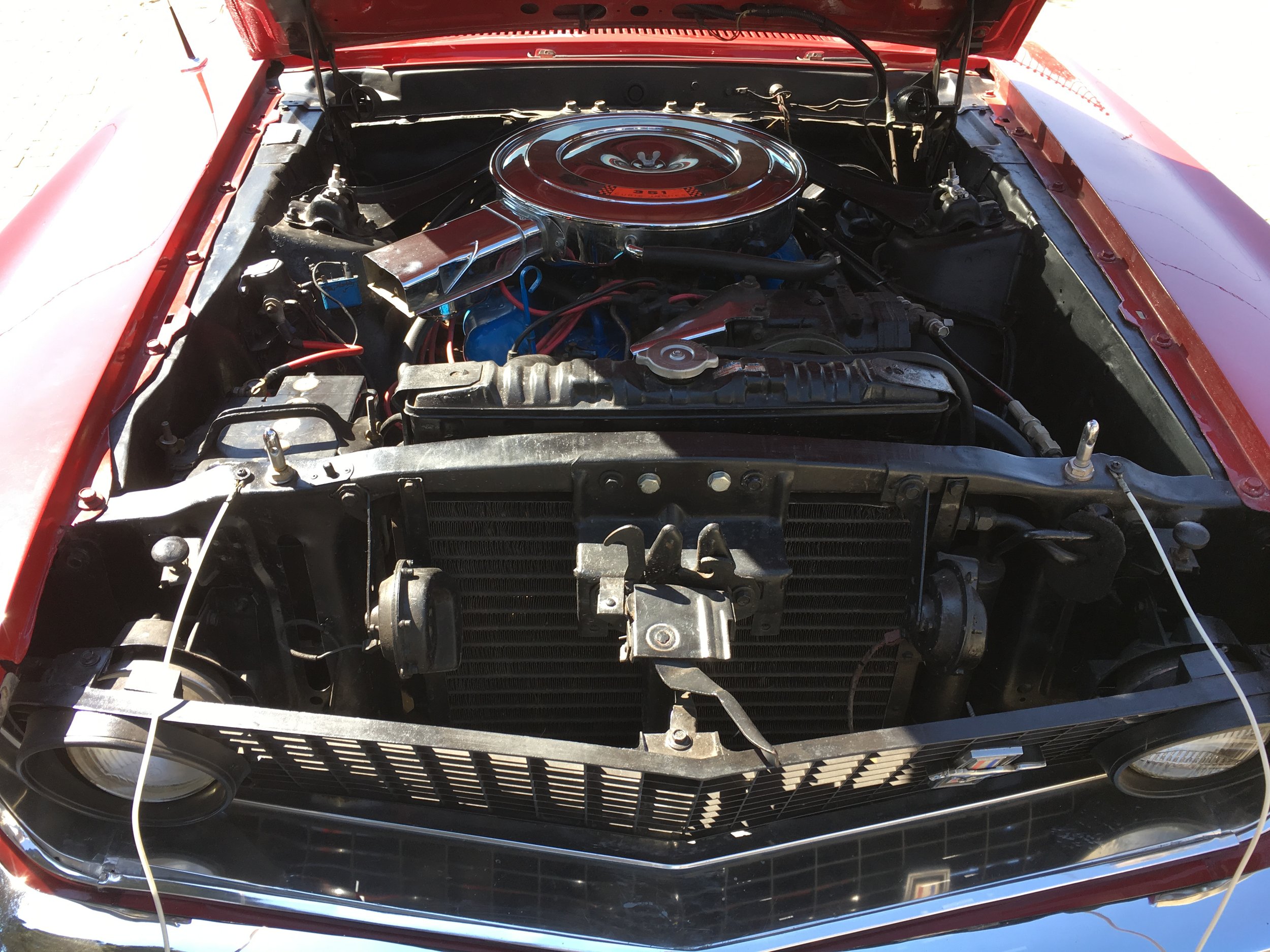 MUSTANG GRANDE and MUSTANG GT For Sale
R1,5 Million for Both
The Mustang Grande was basically a luxury package much like the GT option was a sports package
Another noticeable feature of the 1969 Ford Mustang was its quad round headlights. It's the first and only time they would be featured on a standard production Mustang.
The VIN number, in addition to being located on the driver's door, was also attached to the instrument panel, and visible through the windshield, there were additional identification tags in the right rear taillight lenses and engine tags situated in the engine bay.
VERY IMPORTANT : Both vehicles have their respective, original riveted 3 x "body tags" (VIN No's, etc.), drivers' handbook & internal instruction guides (we can even supply you with the individual manufacturing numbers of the respective seats !) and have a few boxes of spares & wheels included in the deal.
The cars are totally original unrestored examples having only two owners in their history.
According to our research only two "GT's" & approximately five /six "Grandé's" are currently available in South Africa.
WE ARE SELLING THE CARS AS A SET AND IF YOU TAKE INTO CONSIDERATION THAT THEY WILL BE TURNING 50 YEARS OLD IN TWO YEARS TIME THIS IS DEFINITELY AN INVESTMENT FOR THE FUTURE NOT TO MENTION A PEACE OF TRUE AMERICAM MUSCLE CAR HISTORY.
No doubt, 1969 was the year of power and performance for the Ford Mustang.
Mustang Grande 1969
Body Code: 65E: Hardtop, Standard Interior, Bucket Seat, Grande
302 cub. Inch; 210 h-p V8 Winsor Motor C-4 Auto Gear Box
The 1969 Ford Mustang Grande was marketed to the buyer more concerned with luxury, elegance and dramatic Spanish music.
It was all about Grandeur. The Mustang Grande' came only in hardtop and it offered 45 options which were geared towards the upscale market and included interior upgrades such as; "Comfort weave" hopsack upholstery, faux wood grain dashboard, padded interior side panels, extra-thick carpet on the floorboards, racing-style mirrors, chrome rocker panel moldings. It came standard with a Rim Blow steering wheel, which allowed the driver to sound the hooter by squeezing the steering wheel.
Only available as a hardtop, the Grande's exterior was just as refined. Ford also offered, in their words, "a vinyl roof that looks like real leather--in either black or white". It now featured quad headlights up front, with the outer two being more recessed than the inner two that were merely mounted on the grille. It was also now larger and wider to look more muscular.
Only 22,182 buyers opted for the elegance of the Grande package in 1969, while Ford managed to sell 128,458 regular Mustang hardtops that year.
Model 1969
Transmission type: Automatic C4 Gearbox
Vehicle colour: Candy Apple Red Silver Jade
Mileage: 56402 miles
Interior colour: Weave hopstack upholstery
Number of doors: Two Doors
Convertible: No
Driver side: Left Hand Side
Fuel: Petrol
Motor size (CC): 302 cubic inch V8 Windsor Motor
Owner's Manual: Yes
Service History: Partial
Mustang GT 1969
Body Code : 65B : Hardtop, Luxury Interior, Bucket Seats
351 cub. Inch; 290 h-p V8 Winsor Motor FMX Auto Gear Box
The GT Mustang featured a 351cc Windsor Engine, special handling package, dual exhaust, hood lock hatches, the corralled grille Pony was replaced with the Pony and Tribars logo, set off-centre on the driver's side.
1969 was the last year that Ford sold the Mustang GT until it was reintroduced in the mid 80's. In all only 4,973 were manufactured during the model year whereas the replacement Mach 1 had 72458 manufactured during 1969. (No maths test to work out the more desirable model)
Model 1969
Transmission type: Automatic FMX Gear Box
Vehicle colour: Candy Apple Red
Mileage: 61000 miles
Interior colour: Black Leather
Number of doors: White Leather
Convertible: No
Driver side: Left Hand Side
Fuel: Petrol
Motor size (CC): 351 cubic inch V8 Windsor Motor
Owner's Manual: No
Service History: Partial
1969 Mustang Facts Production
Convertible, standard 11307
Convertible, deluxe 3439
Coupe, standard 118613
Coupe, bench seats 4131
Coupe, deluxe GT 5210
Coupe, deluxe, bench 503
Coupe, grand 22182
Fastback, standard 56022
Fastback, deluxe 5958
Fastback, Mach 1 72458
Total 299824